TL;DR The Topeka Zoo's rainforest has more animals than any other exhibit, and requires a lot of prep work, including a refrigerator full of fish, mice and veggies. Animals can be ornery and clickish. Tamarin are thieves.
ICYMI:
Here is an aggregate of the tweets from this morning
. The videos are a must (
feeding tiny alligators
,
a macaw eating,
an intro to our armadillo
and a
tamarin trying to take my phone
).
Today we went around with animal care assistant George Stevenson and keeper I Liam Conroy as they prepared the Topeka Zoo's Rainforest for open.
Conroy said he was glad people could see this footage. The caimans generally rest during the daytime, and guests often ask if they are fake. Can confirm they are very much alive: Conroy had to come in with Stevenson and me as a guard.
Oh, and some tamarin tried to steal my phone:
Now to business. Preparing the rainforest involves quite a bit of work. It has more animals than any other exhibit, and they all need to be accounted for, their habitats cleaned and, most importantly, fed.
Most of the animals in the rainforest are either herbivores or omnivores (the exceptions being those snapping caimans above and a few snakes). So they eat a lot of veggies, fruit and....mealworms.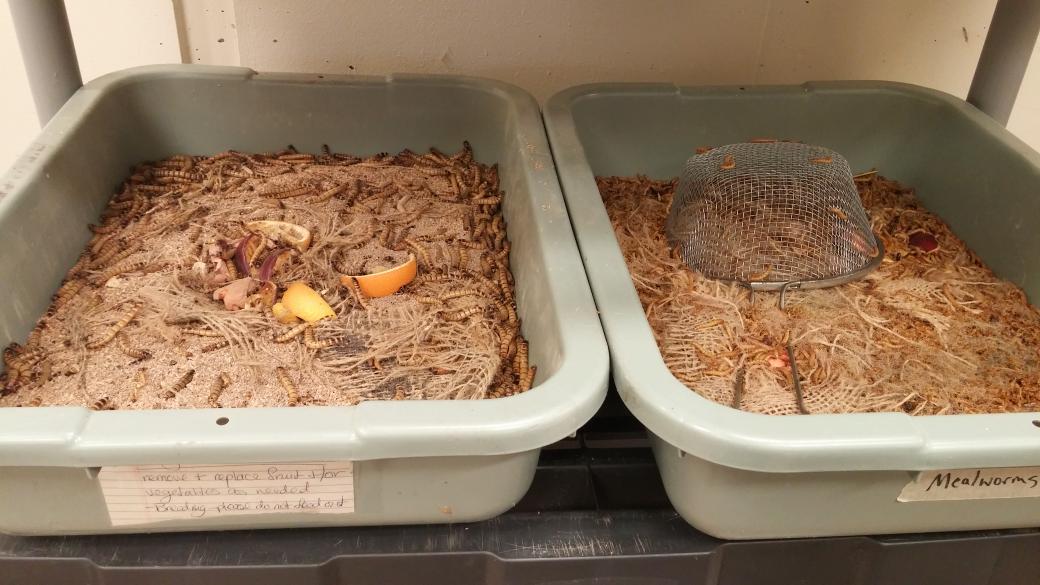 The way they move....so gross
"It's not so bad, once you get used to it," Conroy said
while scooping the writing things into bowls
. "When your job is picking up poop all day, things like this don't gross you out too much."
This said after preparing the omnivore food
: Bird-of-prey ground up meat, smelt and fuzzy mice. Favorites of the Scarlet Ibis, Hammercock and Rosy Spoonbill. And the meal du jour for the caiman: Smelt, mice and a chicken.
Yummy
Each meal is prepared a day in advance and kept in this refrigerator. The reptiles get a little extra seasoning: Reptivite, which is basically pure calcium and, Conroy tells me, tastes like the chalky vitamins we all love. Not sure how he knows that.
Both Conroy and Stevenson said the part they enjoy most about their jobs is the diversity of the animals for whom they care and being able to teach the public a thing or two about wildlife they wouldn't otherwise see in Kansas. There are days when "everything seems to go wrong," between sick animals, deliveries and big crowds.
"But you trudge through," Conroy said. "You know it's going to get done, and you have to do it right."
The zookeepers mainly asked that the public be respectful of the animals in their care. Sometimes, people chase animals in the rainforest or try to touch them.
"That drives their fear response and is stressful for them," Conroy said. "Plus, no one can see the animals if they are running away, so you ruin the experience for everyone. We put a lot of time and care into our animals, and love it when visitors enjoy them and are respectful, too."
And now, some insider knowledge on the rainforest, just for fun.